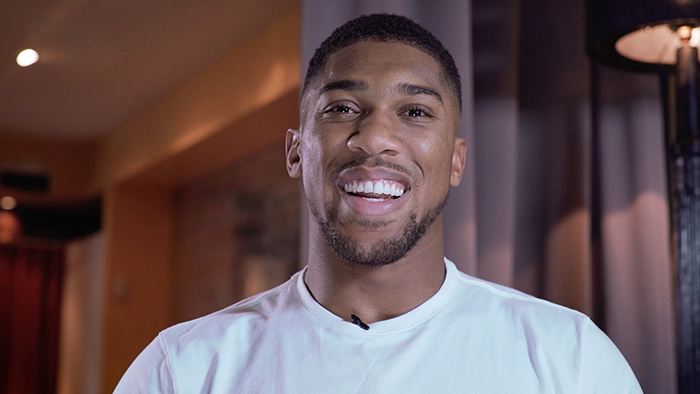 Lynx, the UK's number one male grooming brand, has launched #isitokforguys, a Google-search driven campaign that reveals how men are searching online for answers to questions they can't face asking out loud, such as "is it okay for guys to wear pink" and "is it okay for guys to have Botox" (our favourite).
Designed to help liberate men from cultural pressures and labels that tell them what it means to be a man, the campaign features a series of films and interviews that answer the most searched questions on Google.
Featuring boxing heavyweight champion Anthony Joshua (pictured), grime artist Wiley, BAFTA Rising Star winner Will Poulter and leading male YouTubers, the campaign films will become visible to men typing these questions into Google.
The campaign follows a study conducted by Lynx and Promundo, an organisation that works with men and boys to promote gender equality and prevent violence, which delves into socially reinforced rules that say men should be the alpha male, hide their feelings, look a certain way and refrain from speaking up.
The research revealed that 57% of guys in the UK have been told that men should behave a certain way since they were children and 51% believe they need to 'act tough', even when they are vulnerable or afraid. More than half of these men also admitted to having suicidal thoughts in the past two weeks alone.
Rik Strubel, Lynx Global Vice President at Unilever, says: "We want guys to see there's no holds barred on what men can or cannot be. We need to help more men by tackling toxic masculinity head-on. Our aim is to create an inclusive society where everyone – men and women – can be who they want to be. Data showed us what real guys around the world are asking Google about their own insecurities, so we put forward real guys with real answers. We want to tell guys that there's no rules around how they should look, act or feel – they should be open and proud to be themselves."
#isitokforguys continues the messaging from Lynx's Find Your Magic initiative, which launched last year to encourage men to embrace their individuality.